What is a funeral celebrant?
Last updated 14th March 2023
4 min read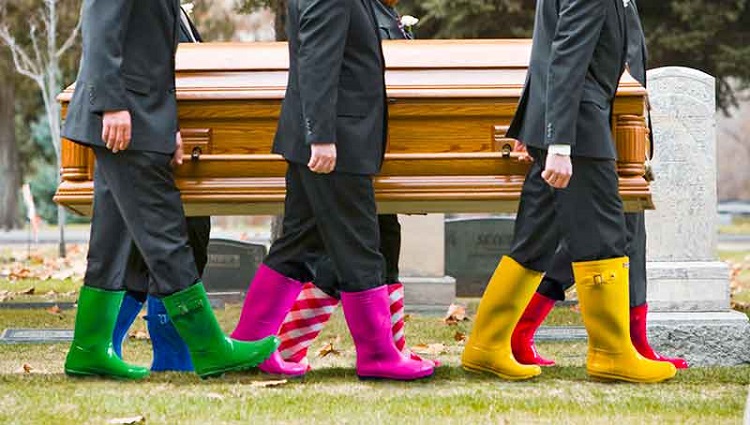 A funeral celebrant is a qualified person who officiates a funeral service. They're the main host and conductor of the funeral, with the aim of creating a meaningful service that celebrates the life of the person who has died.
Funeral celebrants will typically be arranged by the funeral director on behalf of the family. They'll be fully qualified, usually from a non-clergy background, and generally hold services in non-religious settings. However, the celebrant can organise the funeral service according to the family wishes.
Continue reading our guide to learn more about what a funeral celebrant does, how much they typically cost in the UK and how to find the right funeral celebrant for you.
What does a funeral celebrant do?
Funeral celebrants work closely with the family and friends of the person who died to create a personalised, celebratory funeral that isn't restricted by typical rules and regulations. Their aim is to ensure that the order of service fulfils the family's wishes and represents the legacy of the deceased.
After getting in touch, the celebrant will organise a time to meet with the involved family and friends to discuss ideas for the ceremony. They may also ask questions about the person who died to get an understanding of who they were and what they meant to the people who knew them.
A funeral celebrant will tailor a funeral service according to your wishes, and can be responsible for a number of things, including:
Offering ideas for a personal funeral service
Ensuring all the family and friends' wishes are met
The planning of music, readings and poems alongside the family
Hosting and officiating the funeral service
Managing the funeral service timings
Giving support, advice and guidance
The celebrant will be there on the day of the funeral to ensure the funeral runs smoothly, to offer support and to create a funeral that celebrates the person's life.
The two types of funeral celebrant
Celebrant funerals can be religious or non-religious, which is a great way to reflect the exact wishes of the deceased. There are two types of funeral celebrant: a civil celebrant and a humanist celebrant. Which one you choose depends upon the content you'd prefer at the funeral.
Humanist celebrant
A humanist funeral celebrant leads a secular or non-religious service. They organise a personalised funeral that focuses on celebrating the life of the person who died, typically with no religious content such as the reading of bible passages or prayers.
This choice of funeral celebrant may be best for someone who identified as an atheist.
Civil celebrant
A civil funeral celebrant is not associated with religion, however can curate a funeral that follows the wishes of the family and friends. This can include religious hymns and readings which bring comfort to those attending the funeral, or best reflects the deceased's wishes.
This choice of funeral celebrant may be best for someone who identified as agnostic.
How much does a funeral celebrant cost?
A funeral celebrant can typically cost between £180 and £300(humanists.uk opens in a new tab"), with longer and more complex ceremonies or memorial services being more. The price can also vary depending where you are in the country and how far the celebrant has to travel.
It's always best to ask how much their services cost when contacting a funeral celebrant, as well as if there are any additional charges.
How to find the right funeral celebrant for you
You can easily find funeral celebrants online or through your local funeral directors. If you've already begun planning the funeral, the funeral director may recommend a number of celebrants to get in touch with. They will have worked with a variety of different celebrants, so will be able to recommend the most appropriate celebrant to reflect your family's values and wishes.
Once your contact details have been passed to the celebrant, they should be in touch to arrange an initial phone or face-to-face conversation to see if they're a good fit. If you're unsure, you may want to get in touch with multiple funeral celebrants to keep your options open.
If you're finding your funeral celebrant independently, you may want to double check their qualifications, which can be covered easily by asking them a few questions.
Questions to ask a funeral celebrant
If you're having an initial conversation with a celebrant to see if they're the right fit, you may want to ask them a few questions:
What are your values and beliefs?
How do you conduct the service on the day of the funeral?
Do you offer help with writing eulogies?
What experience do you have?
What other services do you offer?
Are there any additional charges we should be aware of?
Do you have any reviews we can read?
Once you've chosen the right funeral celebrant and a funeral date is set, they should reach out to you to begin talking about planning the funeral.
Continue reading
For more funeral planning guidance and ideas, visit our Funeral Planning hub, or continue reading with these blogs on celebrating life:
The thoughts and opinions expressed in the page are those of the authors, intended to be informative, and do not necessarily reflect the official policy or position of SunLife. See our Terms of Use for more info.