Welcome to the SunLife Cost of Dying Report 2023
9 minute read
For the second year in a row, the cost of an average funeral in the UK has gone down – but the total cost of dying has gone up.
In this year's report, we explore how new regulations are changing the funeral industry, the continuing rise of the direct cremation, and what funeral trends are emerging – plus much more.
Once again, we've made sure to include lots of tips and advice on how to organise a funeral and keep costs down.
How much does a funeral cost in the UK today?
The average cost of dying is £9,200 – up 3.8% since 2021.
But the average cost of a basic funeral has gone down. At £3,953, it's dropped 2.5% since 2021.
The cost of dying explained
The 'cost of dying' is the total cost of a funeral – including professional fees, the funeral service, and optional extras like the party or wake.
The average cost of dying has risen by 3.8%, from £8,864 in 2021, to £9,200 in 2022.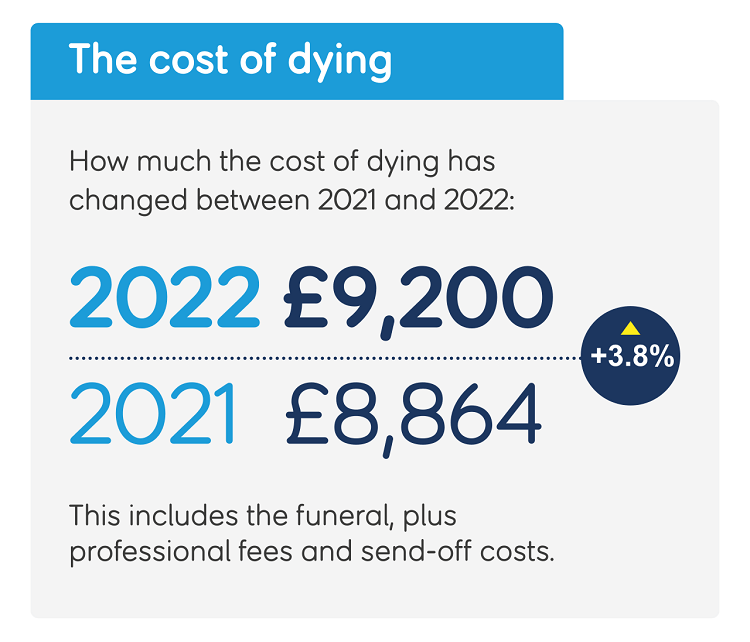 Funeral costs in the UK
The average cost of a basic funeral has gone down for the second year in a row. At £3,953, it's down 2.5% since 2021 (£4,056).
How much does a burial, cremation and direct cremation cost?
The overall cost of a basic funeral has dropped, but the most affordable type of funeral – direct cremation – has dropped the most to £1,511 (-8.2% since 2021).
At £4,794 (-2.7%), a burial is still the most expensive option. And a cremation costs £3,673 (-2.4%) on average.
| | | | |
| --- | --- | --- | --- |
| | 2022 | percentage change in cost | 2021 |
| Average funeral cost | £3,953 | -2.5% | £4,056 |
| Burial | £4,794 | -2.7% | £4,927 |
| Cremation | £3,673 | -2.4% | £3,765 |
| Direct cremation | £1,511 | -8.2% | £1,647 |
Other costs included in the total cost of dying
Professional fees
While last year saw a fall in the cost of professional fees, this year saw them rise the most. At £2,578, they've gone up 10.9% since 2021, and they now make up 28% of the total cost of dying.
Send-off costs
A send-off is the added optional extras that can make a funeral more personal to the deceased and their loved ones, like the catering, memorial, wake and flowers.
Like the professional fees, send-off costs fell last year but have since risen – they now stand at £2,669 (+7.4%). This is probably because organising a farewell in 2021 was more difficult – if not impossible.
Funeral costs by UK regions
Most UK regions have seen a drop in funeral costs. Only two areas – Northern Ireland and Wales – have gone up in price.
At £5,283, London is still the most expensive place to die. And at £3,317, Northern Ireland is once again the most affordable place to die.
| Rank | Region | Average funeral cost | Change from last year |
| --- | --- | --- | --- |
| 1 | London | £5,283 | -1.4% |
| 2 | South East & East of England | £4,300 | -10.9% |
| 3 | Wales | £4,012 | +13.3% |
| 4 | East & West Midlands | £3,892 | -1.3% |
| 5 | Scotland | £3,848 | -0.6% |
| 6 | North West England | £3,832 | -0.2% |
| 7 | Yorkshire and the Humber | £3,742 | -13.0% |
| 8 | North East England | £3,668 | -6.3% |
| 9 | South West England | £3,640 | -6.8% |
| 10 | Northern Ireland | £3,317 | +8.5% |
The future of funerals
What type of funeral are people choosing?
2022 saw no change in the proportion of funeral types being held. 57% were cremations, 25% were burials, and 18% were direct cremations.
Type of funeral (2022)
The rise of direct cremations
A direct cremation is the most affordable choice for a funeral, because it's a cremation without a service.
Due to COVID-19 restrictions in 2021, direct cremation became a popular and practical option for many – a trend that's continued into 2022.
Saying goodbye during a pandemic
In 2020 and 2021, funeral services changed drastically due to the pandemic.
86% of people who organised a funeral in the two years that followed the start of the pandemic said it was affected by COVID-19 and social distancing measures.
How did COVID-19 affect funerals?
Fewer attendees

Social distancing applied

No hugging/comforting

No wake

No singing

Service took longer to organise

No limousines

No flowers

Had to take place virtually
The impact of new CMA regulations
In 2021 a Competition and Markets Authority (CMA) order was put into law, requiring funeral directors and crematorium operators to make prices clear for customers or risk court action.
63% of funeral directors think the funeral industry has improved as a result.
Our 2022 report found 40% of funeral directors were keen for more regulation in the industry, so it's reassuring to see that 88% are supportive of the new CMA order.
The infographic shows two colour coded pie charts with different percentages. The first pie chart is titled, Extent to which funeral directors are supportive of the introduction of regulations from the CMA. The data points are as follows:
68%, Very supportive.
21%, Quite supportive.
8%, Not very supportive.
3%, Not at all supportive.
1%, Don't know.
The second pie chart is titled, Has the introduction of regulations improved the funeral industry?. The data points are as follows:
29%, Improved a lot
33%, Improved a little
31%, No difference
1%, Worsened a little
3%, Worsened a lot
3%, Don't know
Paying for a funeral
Who's paying for funerals?
69% of people made provisions specifically to pay for their funeral before they passed away – up 3% since last year.
But only 59% put enough aside to cover the whole cost of the funeral – down 4% since 2021.
Financial provisions made by the deceased to pay for their funeral
Savings and investments

Pre-paid funeral plan

Over 50s life insurance plan

Life insurance plan

(excluding over 50s plans)
How are loved ones making up the funeral costs?
In 2022, 19% of families experienced notable financial concerns when paying for a funeral. On average, they had to find £1,870 to cover the overall costs – up £70 since 2021.
Most of them found the money by delving into their savings and investments, borrowing from a friend or relative, or by using a credit card.
How people who report notable financial concern make up the funeral cost
Took money from savings or investments

Put the outstanding amount on a credit card

Borrowed money from a friend/relative

Paid the funeral director in instalments

Sold belongings to cover the cost

Borrowed money from a loan provider (e.g. a bank)

Applied for a subsidy from government or local authority

(Funeral Payment Expenses)

Something else

Can't remember
Exploring options
Less than 1 in 5 (18%) people get more than one quote when organising a funeral (up 1% since 2021). But remember – even if your loved one specifies which funeral director they want, you can still shop around for more affordable options.
How you can cover funeral costs
3 in 4 people said certain funeral costs surprised them. The most common culprits were flowers, headstones, the coffin and catering.
So it could be worth putting financial plans in place today, such as over 50s life insurance or funeral cover. If you find yourself struggling to pay for a funeral, you can read our help with funeral costs article for more guidance.
Cutting costs: tips and advice
57% of people still tried to cut back and keep funeral costs down. When we asked how they cut funeral costs, the most common answers were:
How did people cut costs?
Chose a cheaper coffin

Spent less on flowers

Had a home wake

Chose not to embalm

Didn't use a hearse/limousine

Shopped around for the best price

Didn't use order of service cards

Chose a direct cremation

Chose a cheaper cremation time

Asked the funeral director to use fewer pall bearers
90% of funeral directors also said people spent more money than they needed to, especially on flowers, the coffin and limousines.
Planning a funeral
Tips and advice
When we asked people who organised a funeral how to make the process easier, they said:
Talk to your loved ones about what they want
Don't spend too much on the coffin or embalming
Don't be afraid to ask your funeral director questions
Take your time and don't be pressured into going over budget
And when we asked funeral directors the same question, they said:
Get quotes from a few funeral directors
Don't try to please everybody
Don't rush your decisions
Remember that you're in control of the funeral
Lets talk about funeral wishes
Just like previous years, most people still aren't keen to talk about death and funerals.
Only 0.3% of people knew all their loved one's funeral wishes – and 18% didn't know any of their wishes at all.
Of those who knew their wishes, 59% had been told directly, 19% were told by family and friends, and 16% found out from the will.
What did people know about their loved one's funeral wishes?
Whether their loved ones wanted a burial or cremation

If they wanted a religious or non-religious service

The location of their preferred cemetery or burial ground

Whether they wanted their ashes scattered, interred or disposed

Their preferred funeral director

Their preference for any music/readings

Their preferred charity for donation

Their preference regarding who should arrange the funeral

Which type of coffin or casket

Who to invite to the funeral

Their preferred venue for the wake or post-funeral gathering

What type of flowers they wanted

No, I didn't know any of the preferences
Are we planning ahead?
The number of people who've started to think about their own funeral has risen in 2022 – it's now 64%, up 3% since 2021.
But the number of these people who've made a will has dropped from 33% to 31%.
Whatever you'd like for your send-off, you can record it using the My Perfect Send-Off tool. It's free, quick and could be a big help to your family when the time comes.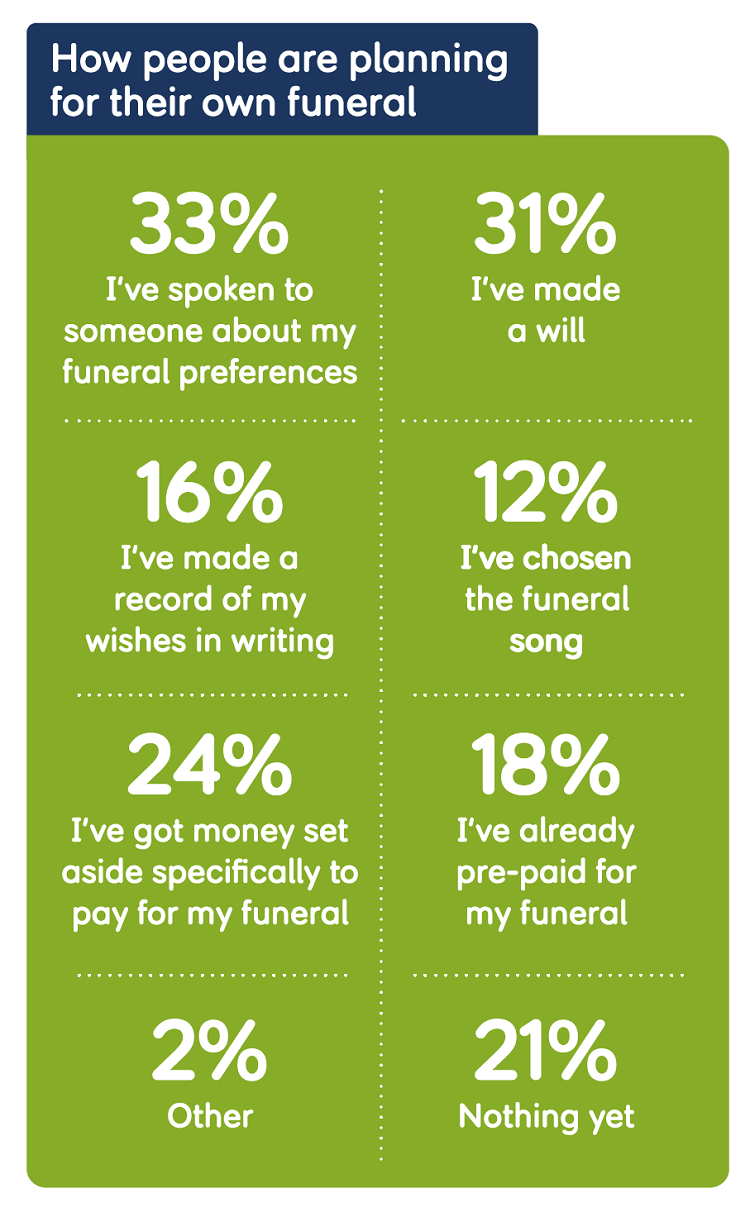 The infographic provides percentage results for How people are planning for their own funeral. The data is as follows:
33%, Ive spoken to someone about my funeral preferences.
31%, I've made a will.
16%, I've made a record of my wishes in writing.
12%, I've chosen the funeral song.
24%, I've got money set aside specifically to pay for my funeral.
18%, I've already pre-paid for my funeral.
2%, Other.
21%, Nothing yet.
Trends and traditions
Attitudes are still changing
Just like 2020 and 2021, almost half of all funeral services were described as a celebration of life in 2022.
And 18% of people who organised a funeral said they encouraged something different or unusual – including colourful dress codes and light-hearted speeches.
How would you describe the tone of the funeral service?
Celebration of life

Remembrance

Traditional

Casual/laid back

Modern
What trends are funeral directors seeing?
86% of funeral directors say they saw new trends emerge in 2021.
Streaming the funeral service is still the top trend, even though the COVID-19 restrictions that made this a necessity are now lifted. Overall, 37% of funeral services were streamed – down from 69% in 2021.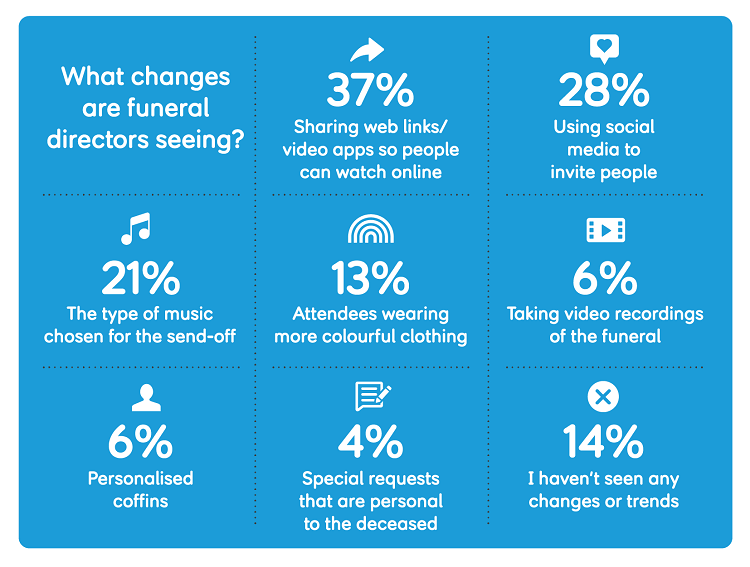 The infographic titled, What changes are funeral directors seeing? provides percentage results for trends that funeral directors are seeing. The data is as follows:
37%, Sharing web links or video apps so people can watch online.
28%, Using social media to invite people.
21%, The type of music chosen for the send-off.
13%, Attendees wearing more colourful clothing.
6%, Taking video recordings of the funeral.
6%, Personalised coffins.
4%, Special requests that are personal to the deceased.
14%, I haven't seen any changes or trends.
What are we doing with our loved one's ashes?
Exactly half of people who've organised a cremation have scattered, or plan to scatter, their loved one's ashes. 27% are keeping them, and 21% have buried the ashes, or plan to bury them.
Some of the most popular places to scatter a loved one's ashes were the local park, at sea, and in a river or lake – with 2% naming a sports venue as their preferred spot!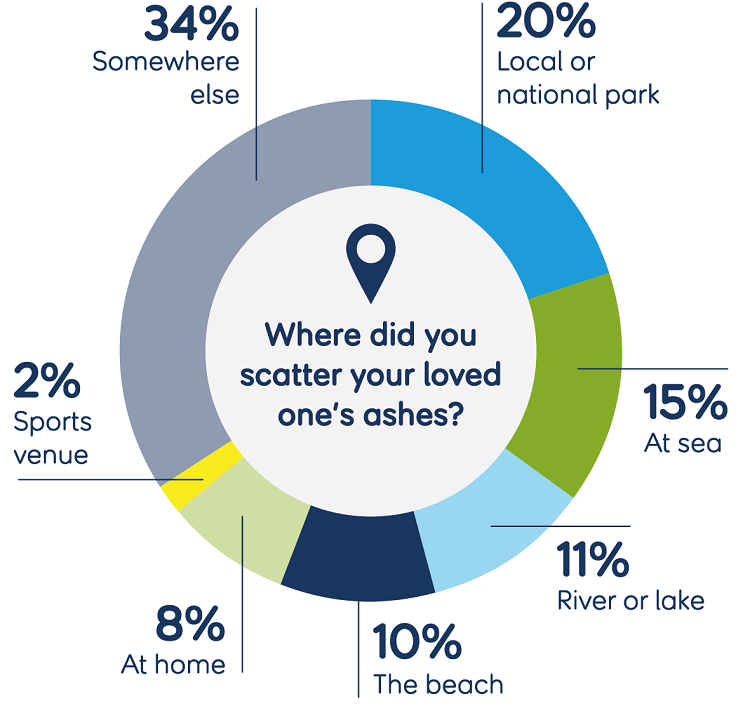 The infographic shows a pie chart with percentages of most popular locations people scatter their loved one's ashes. The data is as follows:
20%, Local or national park.
15%, At sea.
11%, River or lake.
10%, The beach.
8%, At home.
2%, Sports venue.
34%, Somewhere else.
The nation's favourite funeral songs
In 2022, 'Abide With Me' was still the song most played at funerals.
But when we asked people what song they'd like played at their own send-off, the number one spot was taken by 'Spirit in the Sky' by Norman Greenbaum.
So why not let your family know what song you'd like for your funeral, and ask them what they'd like for theirs? It's one of the easiest ways to make a send-off more memorable.
The future of the funeral industry
In 2021, funeral directors were worried about a lack of transparency in the industry. With the new funeral industry regulation addressing this issue, their concerns have shifted:
The cost of living crisis putting people under financial strain
The rise of direct cremations increasing competition
Government pressure to lower costs
Online shopping taking business away
Find out more at our funeral planning hub
Whether you're planning ahead, or planning a loved one's funeral, find everything you need at our dedicated funeral hub.
Our new methodology
In 2021, we changed the way we calculate the average cost of a funeral to reflect the higher number of cremations vs burials in the UK. To give a consistent comparison of funeral costs over time, we've also updated the previous years' figures to reflect this change in our calculation.
Download the latest report
At SunLife, we've been tracking funeral costs since 2004. If you need any past reports, please get in touch with our press office.
Download the full PDF report